Research In Depth
Read a selection of in-depth articles about UBC Dentistry researchers and their work.
---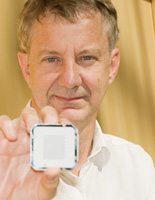 The Overall Approach
From periodontology to systems biology, UBC Dentistry professor and Canada Research Chair Christopher Overall's discoveries are not only leading to better dental care, they are providing novel insights into human immunity and disease.
---
Oral Insights Into Scarless Wound Healing
Periodontology researcher, clinician and professor Hannu Larjava is investigating the remarkable self-healing properties of gums and soft tissue in the mouth in order to improve wound healing in the rest of the body and to reduce painful, debilitating and costly scarring.
---
Battling Biofilms—Innovations in Endodontics
Computational fluid dynamics, multimedia teaching tools and novel irrigation fluids are among the arsenal of technologies developed and employed by UBC Dentistry professor Markus Haapasalo. They are all part of a multiple attack strategy to eradicate biofilms—pernicious colonies of bacteria that destroy teeth, roots and gums.
---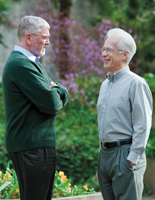 ELDERS Wisdom Improves Seniors' Quality of Life
UBC's ELDERS (Elders Link with Dental Education, Research and Service) Group has created a highly successful model that strives to reverse the trend of neglected oral health care of seniors in a youth-skewed culture. The group—under the lead of Dr. Michael MacEntee—is a compelling blend of research, education and community service with each component enriching the other.
---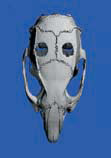 Moving to the Forefront of Bioimaging—A New High-Throughput Centre at UBC Dentistry
Renowned for its hard tissue imaging and analysis expertise, the Faculty has been awarded a multimillion dollar government grant—one of the largest it's ever received—to expand its bioimaging infrastructure.
---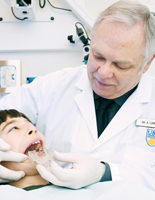 Sleep Apnea: Children May Benefit from UBC Device
Renowned worldwide for his research contributions on the use of oral appliances for the treatment of snoring and Obstructive Sleep Apnea and their effects on airway size and tongue muscle activity, Dr. Alan A. Lowe, professor and chair of the Division of Orthodontics is the inventor of Klearway™, the largest selling adjustable appliance used in this field. His recent work includes a funded clinical trial underway for the last two years to develop clinical protocols for the application of Klearway appliance therapy to sleep disordered breathing in a child population.
---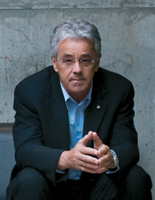 The Only Dedicated Forensic Odontology Laboratory in North America
Lead by Dr. David Sweet OC, and under the aegis of the Faculty of Dentistry, the Bureau of Legal Dentistry (BOLD) laboratory is devoted exclusively to forensic dental services, research and teaching and the use of dental evidence for crime investigation and prosecution.
---

Reaching Out to Combat Oral Cancer
UBC's Faculty of Dentistry clinicians, researchers and colleagues from across BC are leading the fight against oral cancer by bringing innovative diagnostic tools into communities most at risk. Now, with a major grant from the Terry Fox Research Institute (Terry Fox Foundation), their research is going Canada-wide.
---
Annual Research Day
UBC Dentistry's annual research day is a yearly forum to highlight current research accomplishments and to define the future opportunities for new investigation.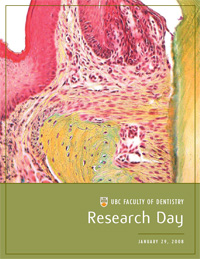 2008
In 2008, the program, "Implants: From Basic Science of Tissue Destruction to Predictable Esthetic Implant Placement" demonstrated how the Faculty is making contributions in basic biomedical research that are leading to improved treatment options for patients.
---
2009
In 2009, with its affirmative title, "Oral Cancer: Early Detection Saves Lives", the basic research of premalignant lesions and oral cancer, and the progression of these findings into clinical applications that benefit patients lead the day.
---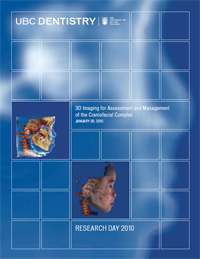 2010
In 2010, "3D Imaging for the Assessment and Management of the Craniofacial Complex", showcased advances in imaging research critical to the dental profession.
---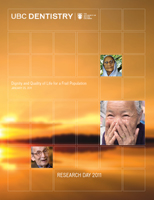 2011
In 2011, the theme of research day is "Dignity and Quality of Life for a Frail Population". If, for this population, dental needs remain neglected, serious health problems can occur. Find out more about UBC Dentistry Research Day 2011.
---
Research Clusters
Research within the Faculty of Dentistry at UBC is subdivided into three clusters. Discover more about each cluster and the people in them:
Clinical Specialty Graduate Programs—an Inclusive Portfolio
Western Canada now has more options in clinical and specialty training: UBC Dentistry's integrated clinical specialty programs in endodontics, pediatric dentistry, periodontics prosthodontics and orthodontics are positioned to meet the critical need for basic science and clinical research. Learn more about the programs>>
Return to the Strategic Themes page.