Larry Hill, DMD 1987
March 23, 2015
The horn is an integral part of driving in Nepal. Drivers honk as they enter a curve, as they pass another vehicle, or to notify a driver behind them that it's safe to pass. What sounds like confusion to us is actually an organized system of communication between cars, trucks and motorcycles.
We were in the midst of dense traffic—and multiple horns—descending from Kathmandu on the main road to India. It's a tortuous, narrow road full of garishly decorated Tata trucks travelling in both directions. My companions were recent UBC students Dilraj Bal (DMD 2014) and Jay Chan (DMD 2014), alumna Kathie Robertson (Dip DH 1985) and Kathmandu dentist Dr. Sushil Koirala. Our destinations were several remote villages located near the beginning of the Annapurna trekking area, where we would provide dental treatment for the people who live there.
After several hours on the main road, we turned onto a less-travelled road that leads to the town of Besisahar, where we picked up equipment and supplies. From Besisahar, it took several hours of rugged four-wheeling to climb up to the first village we were to visit. Like many Nepali villages, Koulepani is spread out on a hillside. It is home to approximately 2,000 people.
Following a welcoming ceremony in which we had a white tika (mark) applied on our foreheads, ate a symbolic meal of local foodstuffs and drank three sips of village wine, we were directed to our homestay. Homestays provide a room with a bed for visitors to stay in; breakfast and dinner are also provided. The food is all locally grown in the terraced gardens that are so numerous in the villages. Homestays cater to hikers and climbers who travel from village to village along the route, providing very inexpensive accommodation.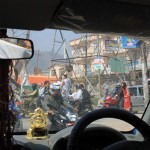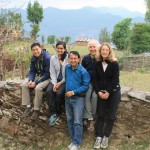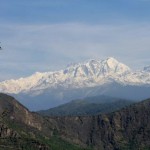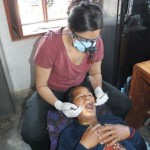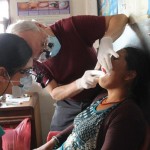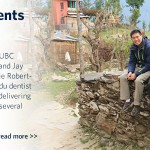 After visiting our rooms, we hiked to the schoolroom where we would set up our clinic the next day. The school was a very simple building—rock walls, dirt floor and a metal roof. Inside, a blackboard and some posters were the only educational aids I saw. We made some plans for setting up in the morning, then went back to our homestay for dinner and a well-deserved rest.
We awoke to roosters crowing, and our homestay family beginning their day preparing breakfast and feeding the livestock that live with them. Breakfast was usually a boiled egg, some cooked potatoes and several buckwheat pancakes with honey. With this, we had Nepali tea or some of our instant coffee stirred into tato pani (hot water).
The schoolroom became our dental clinic for the next two days. We brought two portable dental units—one donated by the Rotary Club of Lantzville (on Vancouver Island) and one of my own. (Both of these were left in Kathmandu for future missions.) To power these units, we had purchased a compressor in Kathmandu with funds kindly donated by a group on Gabriola Island. Supplies and other equipment were provided with the help of Nanaimo Daybreak Rotary Club, Dr. Koirala and myself.
With our equipment assembled and supplies laid out, we began to see our patients, who had congregated outside. Ours was the first dental clinic that had visited the village. Some of the schoolgirls had rolled up their sleeves, thinking they were getting a vaccination!
Dilraj and Jay used the portable dental units to do fillings and extractions, and I set up an "operatory," using a plastic chair against a wall. We worked until dusk both days, then returned to our homestay for dinner and bed. Over the course of the two days in Koulepani, we treated over 100 patients, often doing multiple procedures on a patient. During the following week, we worked in a hospital near Besisahar for a day, and visited another village even further away.
During the trip to this village, called Nalma, we had a local physician, Dr. Tilak Ghimire, join us for a free one-day dental camp partly sponsored by a local Nepalese Rotary club. Dr. Ghimire dispensed analgesics and antibiotics to our patients after they had been treated. We also worked at a clinic in Besisahar for a day, treating schoolchildren. During the five working days, we treated close to 300 patients, at no charge to them.
Overall, I feel that the trip—our first clinical visit to this remote area—was a great success. I will leave the final comments to Dr. Dilraj Bal: "One of the most rewarding aspects of the trip was witnessing how grateful each patient was that we had come to their village to provide them with dental care. The endless number of smiles, hugs and thank-yous that we all received is not something that I will soon forget."