July 8, 2010
Dental hygienist and UBC alumna Sherry Priebe, MSc 2009, BDSc 2003, is at the top of her profession—she has recently been awarded the World Dental Hygienist Award in the research category by the International Federation of Dental Hygienists.
Established by the Sunstar Foundation for Oral Health Promotion, the award recognizes dental hygienists who make a great contribution to the dental community, their profession or to the general public. J.P. Squire writes in the Daily Courier, a Kelowna, BC newspaper that: "The award recognized her research into cultural habits on oral health and oral cancer in Vietnam. Her research was a collaboration with an oncology hospital in Ho Chi Minh City, Vietnam, and UBC." Priebe, who practices dental hygiene in Kelowna, states in the story: "I was thrilled to be recognized for my research on such an imperative subject. My passion has always been to assist people to achieve optimum oral health through education, research and clinical practice." Priebe's passion has been a long and exciting journey in all these areas.
For Priebe, working as a registered dental hygienist was rewarding but she knew something was lacking, she wanted more from her professional life, and she realized that education is the way to succeed. She received a bachelor of dental science (Dental Hygiene) in 2003 from UBC's Dental Hygiene Degree Program and it was during this time she explored the possibility of international oral health promotion. To encourage her project Bonnie Craig, professor and director of the Dental Hygiene Degree Program, recommended she explore the faculty's international programs.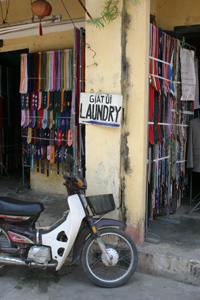 Priebe looked to Dentistry's General Practice Residency Program, and she was particularly inspired by the program's rotation in Vietnam. She jumped at the recommendation that she travel to Vietnam to assist the project.
In Vietnam Priebe witnessed the oral health care situation as being multi-faceted and was intrigued by the challenges in this resource-poor and less-developed country. "The personal needs of the people including the unawareness of the basics of oral health and information about oral cancer motivated me to open my heart to the people of Vietnam," she says. With her open heart Priebe also found the inspiration to study more: "I made contact with Dr. Jolanta Aleksejūnienė, assistant professor in Dentistry, who agreed to be my academic and extremely capable supervisor who was not intimidated by international research." Priebe—who continued her studies and research as a graduate student from 2003 to 2009—understands the Vietnamese lifestyle risk habits are severe and her research discusses the extremes and problems of their oral health.
Her research reflects UBC's 2010 goals of global citizenship, scholarship and the promotion of the values of a civil and sustainable society. The partnership between UBC and the university and oncology hospital in Ho Chi Minh City, Vietnam, provided an opportunity for research of advanced oral pathology that is highly prevalent in Asian populations. "My mission statement as an oral health professional was also realized 'to assist people to attain optimum oral health through research, education and clinical practice'," she says.

Her six-year study and the key contributions of her research have significant benefits to the oral cancer patients of the oncology hospital in Ho Chi Minh City, the dental community in Vietnam and to the general public; Priebe anticipates her research results and discussion will influence social policy changes by the government of Vietnam.
Committed to sharing her experience and the transfer of knowledge internationally, Priebe has published articles in the Journal of Medicine at the University of Ho Chi Minh City, Vietnam, titled "Oral Squamous Cell Carcinoma and Cultural Risk Habits in Patients at the Oncology Hospital in Ho Chi Minh City, Vietnam", in the Canadian Journal of Dental Hygiene, titled "Oral Cancer and Cultural Factors in Asia" in 2008 and presently online and now in press in the International Journal of Dental Hygiene, titled "Oral Squamous Cell Carcinoma and Cultural Risk Habits in Vietnam" in August 2010.
As an advocate to act on knowledge, Priebe gives presentations to colleagues about how trends and events in other countries affect their professional lives. "The rates of oral cancer are increasing and we have a responsibility to our patients to make them aware of oral risk habits as they affect global health."
Priebe is honoured to receive the prestigious World Dental Hygienist Award in research at the International Symposium on Dental Hygiene 2010 this past July in Glasgow, Scotland. "The pleasure and honour was mine to be able to address and research such an imminent issue of oral cancer in our world with such capable and dedicated dental professionals from Vietnam," she says.