All Clinical Programs – Important Info for Applicants
---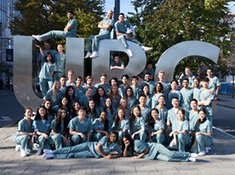 UBC DMD Information Session
The annual information session will take place on Friday, May 6, 2022, 1-3 pm. Due to Covid-19 travel restrictions, the event may be presented online. Please do not make any travel arrangements at this time.
Register here for the event.
---
The DMD program application for the Class of 2026 will open on May 11, 2021. Fully documented applications must be received by the application deadline. AADSAS applications that are submitted by the application deadline will be reviewed once verified, no later than one week following the deadline.
UBC FoD will accept Canadian and American DAT scores from no later than the deadline as stated above.
Applications are accepted through ADEA AADSAS (preferred) or directly through the UBC Faculty of Dentistry's online application. Only apply through one of the following application methods.
The Faculty of Dentistry welcomes applications from qualified Indigenous applicants. Up to three seats per application cycle are reserved for eligible Indigenous candidates.
UBC Dentistry Indigenous Students Webpage
As stated above, the Faculty of Dentistry considers applications to the Doctor of Dental Medicine (DMD) program from individuals who are not Canadian citizens or permanent residents of Canada.
Applicants must fulfill the stated admission requirements for the program of study, as well as any Canadian immigration student visa requirements (note that there are special student visa requirements for international students entering a health care program, and applicants should review the Canadian Immigration website).
International Student Study Permit
The possession of a dental degree does not automatically confer the right to practise dentistry in any province of Canada. Each province has a licencing authority which grants the licence to practise. In British Columbia, inquiries should be directed to:
Registrar, College of Dental Surgeons of BC
1765 West 8th Avenue
Vancouver BC, V6J 5C6
Tel: (604) 736-3621
Fax: (604) 734-9448
Website: http://www.cdsbc.org
Persons convicted of a criminal offence including a conviction for an offence which resulted in a conditional or absolute discharge, and who are considering a career in dentistry, should write to the Registrar of the College for clarification of their ability to obtain a licence to practise dentistry in British Columbia before beginning studies.
Practice in US: Dental Licensure by State
Initial licensure requirements by state
The DMD Admissions Committee will consider applicants who are seeking admission to second year Dentistry and who are currently enrolled in a Canadian or USA dental program accredited by either the Commission on Dental Accreditation of Canada (CDAC) or the US Commission on Dental Accreditation (CODA). Applicants will be considered for transfer in exceptional circumstances only and if space is available. In these cases, the student:
must fulfill the pre-dental admission requirements;
must have successfully completed courses equivalent to those offered in this Faculty for the years below which transfer is being sought;
may be required to pass special examinations set by this Faculty;
may be required to repeat the year most recently completed at the former institution;
must submit an application fee to cover the costs of evaluating educational documents;
must submit references (forms for this purpose are included in the application materials);
may be required to attend a personal interview at his or her own expense;
must make application by December 1 for the following September.
Students who have been required to withdraw or have been dismissed from another dental school for academic or misconduct reasons are not eligible for admission.
Requests for deferrals to the DMD program are not accepted.
Under special circumstances when an offer has been accepted, admission may be deferred for one year only (to be admitted in the following academic year) at the discretion of the UBC Faculty of Dentistry Office of Admissions. The deadline to request a deferral is July 15 of the year the program commences.
It is the responsibility of the applicant to advise this office of a change in physical address, email address and contact phone number. Any paper correspondence will be sent to the current mailing address until April 30 each year, and thereafter to your permanent address. If you will not be at your permanent address during the summer, please authorize someone at that address to open mail from this office.