The Entry-to-Practice Admission Option is a full-time, four-year degree program at UBC-Vancouver that includes didactic and clinical instruction and leads to a Bachelor's Degree in Dental Science.
---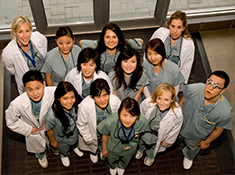 UBC Dental Hygiene Entry-to-Practice Information Session
Tuesday, December 7, 2021 | 6:00-7:00pm

Note: This information session will be conducted online as a Zoom meeting.
What is Dental Hygiene?
Dental Hygiene is a health profession involving theory and evidence-based practice. Dental hygiene theory and practice draw on biomedical, social and behavioural sciences as well as the body of dental hygiene knowledge. Key responsibilities of dental hygienists include health promotion, education, clinical therapy, research, change agent and administration that occur in varying degrees depending on the nature of the individual dental hygienist's practice. The practice of dental hygiene involves collaboration with clients, dentists, dental assistants, other health professionals and society.
Dental hygienists have numerous career options open to them. For more information, visit the Career Options page.
Why pursue a Dental Hygiene Degree?
Having a Bachelor's degree in Dental Hygiene places UBC graduates at the forefront of the Dental Hygiene profession globally and leads to exciting career opportunities. Graduating with a dental hygiene degree rather than a diploma makes it possible to readily access advanced studies at the Masters and Doctoral levels resulting in even more career choices.
UBC dental hygiene graduates: where are they now?
To address a scarcity of studies on Canadian baccalaureate dental hygienists, researchers in the Faculty of Dentistry undertook a graduate outcomes study of those who earned a UBC Bachelor of Dental Science in Dental Hygiene (BDSc) degree.
Read more details about the study
including results from the mixed-methods survey, and
view or download the research poster
at UBC Dentistry News.
Why UBC?
The Entry-to-Practice Admission Option is an entry point to the UBC Dental Hygiene Degree Program open to both secondary school graduates and applicants with post-secondary experience. Successful applicants will complete a full-time, four-year degree program at UBC-Vancouver that includes didactic and clinical instruction and leads to a Bachelor's Degree in Dental Science.
The Dental Hygiene Degree Program is the only entry-level dental hygiene degree program in Canada. Graduates earn a UBC Dental Science degree and are eligible for registration to practice with The College of Dental Hygienists of British Columbia as a registered dental hygienist.
The leading centre in Canada for comprehensive dental hygiene education, UBC's Faculty of Dentistry prepares outstanding dental hygienists that are committed to advancing oral health and community service. Students in the Entry-to-Practice option complete their clinical education in the Faculty of Dentistry's state-of-the-art Nobel Biocare Oral Health Centre on the UBC-Vancouver campus.
The UBC-Vancouver campus is located twenty minutes from downtown Vancouver, on a stunning peninsula surrounded by ocean and mountains. For more information about the UBC-Vancouver campus and life in Vancouver, take a virtual tour.
How can I apply?
Our Entry-to-Practice admission page details admission requirements and procedures.